Are you looking for new ways to learn and practice French when you're not in class? Magali and Sébastien from the Student Activities Office have a great program waiting for you, whether you're here in Besançon on learning online.
Our student activities are all about having fun, meeting other people from all over the world, and discovering new things about the French way of life for a fully immersive experience.
Contact: culturel-cla@univ-fcomte.fr, tel. +33 (0)3 81 66 52 22
Our Student Activities
This offer is for CLA students only.
To discover new ways of learning about French culture and language, join us online to chat and play with students from all over the world.
Program of the Week –April 14th-16th, 2021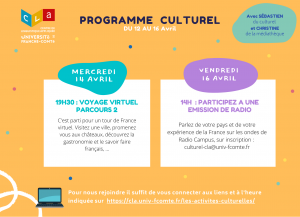 To join us online, click on the link below at the scheduled time.
To participate, please send an email indicating your name, language level and activity or activities you wish to take part in to culturel-cla@univ-fcomte.fr.
Don't forget to specify the date!
Please note that all times are local (French time).
Link to participate online:
https://rdv1.rendez-vous.renater.fr/claculturel
Please do not click directly on this link, but copy-paste it into your browser and click on "open with your browser" at the bottom of the page.
In the summer, which is the busiest time of the year at the CLA, we go all out to make sure you get to meet plenty of new people: activities, shows and concerts every evening and trips to local places of interest at the weekend. Enjoy your summer with us!
A Wide Array of Activities all year round
- Take a guided trip with us and discover monuments, museums, and picturesque heritage sites, or visit local artisan cheese or chocolate factories. Our day or weekend trip destinations include French cities like Strasbourg, Lyon, and Marseille, and neighbouring countries such as Germany and Switzerland.
- Come and enjoy dancing, sports or games during one of our fun evening events, or check out one of the theatre, music, cinema or dance shows organized by our cultural partners.
 - Discover 

Le Tour du Monde en 80 plats

 (Around the World in 80 Dishes), a unique food festival during which you can sample specialities from the dozens of countries our students come from.
- Play over 40 differents sports for free with the Université de Franche-Comté's Sports Program for students.
- Meet French people by participating in our activities organized in collaboration with local partners (schools, retirement homes, etc.). Taste French cuisine and learn to cook during one of our foodie events.
Become a radio host by taking part in RadioCampus Besançon's show "Sais-tu d'où je viens" ("Do you know where I'm from?"). Once a week, our international students take listeners on a virtual trip around the world: a great way to learn more about music, culture and languages!
- Find your language exchange partner by signing up for our tandems linguistiques program, here in Besançon or online.
- The Student Activities office often works with teachers and the staff at the

CLA Media Centre 

to put together pedagogical projects: field trips, radio, literature or conversation workshops, etc.
Things to do in Besançon all year round